Biography of painter Francis Picabia
Francis picabia is a french painter, graphic designer and writer, close to all the artistic movements of his time. Modern artist, he was a major icon of all the art world transformations in the 20th century.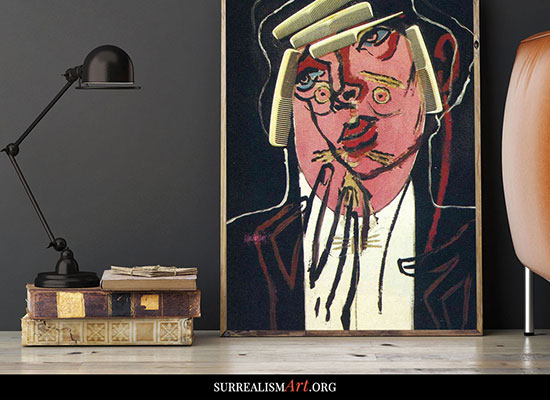 The life of Francis Picabia, the evolution of his art
Francis Picabia was born in Paris in 1879 and died in 1953. He is the son of a Spanish born in Cuba, Francisco Picabia and a French woman. If his childhood is comfortable, it will be difficult nonetheless. Following the death of his mother when he was only seven years old, Francis Picabia will grow up surrounded by men: her father, uncle and grandfather. He will stave off boredom with painting and drawing. Very independent, his art will continue to assert itself in parallel and he will begin his apprenticeship in 1895 at the School of Decorative Arts. He will later show his first painting at an exhibition in 1899.
The success of Picabia
Three years later, his painting becomes impressionist and we feel in it the influence of Pissarro and Sisley. He exhibited in several halls and success didn't take long. He additionally landed a contract with the Haussmann gallery and painted numerous paintings in which the landscapes are not reproduced faithfully but rather based on feelings, the emotional, the scenery inspires the artist.
His art hangs a staunchly modern twist in 1909, the year he married Gabrielle Buffet, an avant-garde musician that will inspire Picabia throughout his existence. His drawings henceforth are intended to be abstract and his reputation collapses; Galleries do not want to exhibit him.
During the five years to follow, Picabia explores all new movements such as Fauvism, Cubism, Futurism and Orphism. Success comes little by little. He exhibited his Fauvist and Cubist works.
In 1911, Francis Picabia becomes friends with Marcel Duchamp. It is a strong friendship that will last a lifetime.
A revealing voyage for Francis Picabia
It's when he goes to New York in 1913, and has four paintings at an exhibition, the Armory Show, that he becomes globally renowned. He also launched a magazine with Man Ray and Marcel Duchamp, 391. This trip to New York will mark Picabia strongly, who qualifies the city as futuristic, and there he will consecrate many paintings such as New York and Star Dancer on a Transatlantic Steamer. He will get in parallel into the works called mechanistic, based on manufactured objects. When he returns to France, Picabia maintains relationships with artists such as Tzara and joins the Dadaism, from 1918 until 1921. It does not mean he abandons his other passions, such as writing and cinema. In 1924, he wrote a delusional screenplay called Intermission (Entr'acte), to be broadcast during an intermission during the Relâche ballet. Moreover, he will continue to collaborate with Swedish ballets.
End of life
After 1945, Picabia plunges back into abstraction and his work becomes minimalist. Too passionate about cars and gambling, Francis Picabia ends up broke and in 1951 is affected by arteriosclerosis paralytic which keeps him from painting. He died in 1953 in his childhood home.
Useful links
Francis Picabia
Author

Arts3 Network
Websites Edition
Other articles
Surrealist Artists
Origin of surrealist painting
Salvador Dali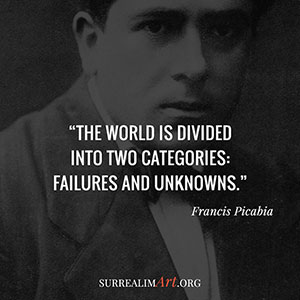 "The world is divided into two categories: failures and unknowns."
See more quote by Fracis Picabia