Biography of Man Ray the surrealism photographer
Man Ray is one of the few artists photographers of the surrealism. His photos are known worldwide and we still study his work in the art schools.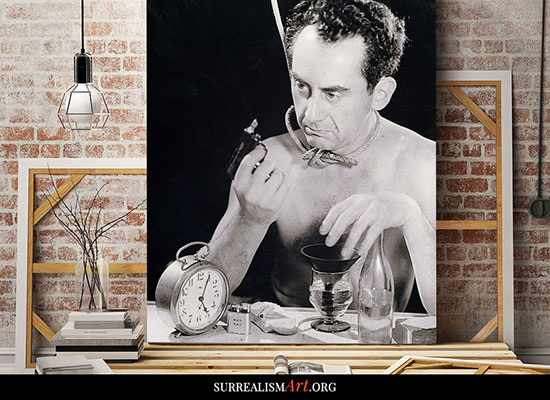 The journey of Man Ray
Emmanuel Rudnitsky, called Man Ray, was born in Philadelphia in 1890. He began studying architecture but quickly abandons to devote himself to art. Very quickly, his career began, in 1912, in New York, in advertising and becomes friends with avant-garde artists such as Marcel Duchamp. His works range from fauve painting to photography. He founded rapidly, with Marcel Duchamp, an American Dadaist branch in 1915, which will, however, turn out fruitless.
Paris, photographic works
In 1921, Man Ray arrives in Paris and frequents, with Duchamp, the French Dada movement. He presents his first "Ready-made". After some tests, including spray paint, Man Ray dedicates to photography, which becomes the best way of expression in modern art for him. Many famous people of the time come after his goals, such as Jean Cocteau or James Joyce. Man Ray revolutionizes photography for over thirty years, in Montparnasse, in particular by making a series of nudes of Meret Oppenheim, also a surrealist artist. Additionally, he discovers the "Solarization", a technique that produces a kind of aura around the character of his photographs. His photographs are surrealist like Le Violon d'Ingres, one of the most famous works of the artist.
Throughout his existence, Man Ray continues his photographic work but also expresses himself through painting, Assemblage and collage. He dies in Paris in 1976 and is buried in the Montparnasse Cemetery. One can read on his tombstone the inscription "Unconcerned, but not indifferent" which means "Detached but not indifferent". Man Ray becomes one of the greatest Dadaist and Surrealist artists by revolutionizing the world of photography.
Author

Arts3 Network
Websites Edition
Other articles
Origin of surrealist painting
Max Ernst
Surrealist Artists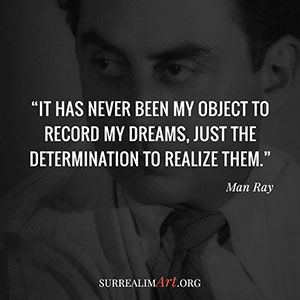 "It has never been my object to record my dreams, just the determination to realize them."
See more quote by Man Ray