Salvador Dalí and Man Ray, by Carl Van Vechten
On june 16th, 1934, in Paris, Carl Van Vechten immortalizes Salvador Dali and Man Ray with a camera.
Today, this, iconic, picture of a friendship between two famous surrealists, is known worldwide.
Photography by Van Vechten
The photograph, in black and white, was taken with film and developed by Carl Van Vechten himself, like most of his other shots. It shows Dalí and Man Ray, one beside the other, serious face and wide eyes. This look has often been defined by the expression "wild eyes" (crazy eyes). These days, this photo is preserved in the archives of the Library of the US Congress, in the prints and photographs division.
In 1921, Man Ray settles in the Montparnasse district, in Paris, where he will stay for 20 years. During this stay, he establishes a solid photographer reputation and his camera immortalize many big names of the time: Jean Cocteau, James Joyce, Antonin Artaud, Gertrude Stein ... The portraits of Man Ray are avant-garde, modern, and sober. It is also at this time that Man Ray falls in with Surrealists: in 1925, he meets Picasso, Miró and Ernst at the Pierre Gallery in Paris, artists with whom he will be brought to work later. He establishes a particularly important friendship with Salvador Dalí: in the dawn of the Second World War, Dalí and his wife Gala withdraw to the United States in Man Ray's company.
Carl Van Vechten's career
Carl Van Vechten (1880-1964) is the author of more than 1400 photographs. Between 1932 and the end of his career, so many illustrious names pass before his cameras, such as F. Scott Fitzgerald, Frida Kahlo, Trum Capote, Gore Vidal, Carson McCullers, Billie Holliday, Marie-Laure de Noailles, Max Jacob, and obviously, Salvador Dalí and Man Ray. No real connection is established between Van Vechten and the surrealists; one can just imagine that in the visit to Paris, Van Vechten was offered to immortalize the two great artists and that he has particularly captured the essence of friendship.
Author

Arts3 Network
Websites Edition
Other articles
Man Ray
Eccentric character
Surrealist Artists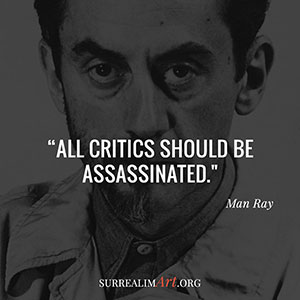 "All critics should be assassinated."
See more quote by Man Ray