Surrealism Manifesto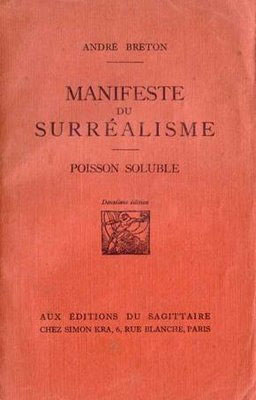 In 1924, André Breton draws a line under Tristan Tzara and the dada movement, and founded a brand new artistic paradigm: surrealism.
On October 15th, Breton published the first Surrealist Manifesto, which will inspire future generations of artists.
Disillusioned by the apathy of the Dadaists, especially of Tzara, who he admired for a long time, fortified with a very considerable literary popularity and a very impressive close circle of colleagues (with Louis Aragon, Robert Desnos, Rene Crevel and Francis Picabia, among others), Breton quits Dada once and for all by publishing the Surrealist Manifesto. What was intended as a preface for his book Poisson Soluble is finally a book alone, detailing first the path of modern literature until the time of its publication, and then gives a first definition of surrealism.
Definition of automatism
As defined by André Breton, Surrealism is: "Pure psychic automatism, by which one proposes to express, either verbally or in writing or otherwise, the actual functioning of thought. Dictation of the thought, in the absence of any control exercised by reason, apart from any aesthetic or moral concern."
The tone is then set: in this definition, we find the psychoanalysis concepts, so dear to Breton, the idea of ​​automatic writing and writing of the unconscious, as well as that of moral and aesthetic freedom, all at once. Few artistic movements previously encompassed art in all its forms: by the very definition of surrealism, Breton invited artists from all backgrounds to join him and his colleagues.
Elizabeth Kennel-Renaud, a Breton and Surrealism specialist divides the Manifesto into 9 elements, including the principle of automatic writing; the call to wonder; the tribute to the imagination. The manifesto itself is surrealistic: motley, it contains purely theoretical passages, and others of writing, as one Kennel Renaud described by the term "sentence fragments collages," which recalls the process of surrealist writing of the Exquisite Corpse. Kennel-Renaud also notes in the manifest a section she calls "faith in resolving the conflict between dream and reality." In writing as in film and visual art, surrealists will attempt to connect these two spheres of consciousness, either by abolishing the narration of Buñuel, or by the tale of dreams and writing processes under hypnosis.
First surrealist manifesto
Tribute to the imagination, dreams and freedom, the first surrealist manifesto announces good years ahead for the artists of the movement of André Breton. In the Second Surrealist Manifesto (1930), Breton will be more radical: recalling that surrealism claims no morals and rejects any political indoctrination, there, however, he calls for the social involvement of every artist, as well as a rejection of greed. This manifesto, which criticizes several surrealist assets at the time, is the subject of, among others, a solid replica of Robert Desnos who, in Corps et Biens (1930), laments the painful but necessary end of a beautiful adventure.
Useful links
Original Surrealism Manifesto
Banksy Manifesto
Author

Arts3 Network
Websites Edition
Other articles
André Breton
Origin of surrealist painting
Surrealist writing techniques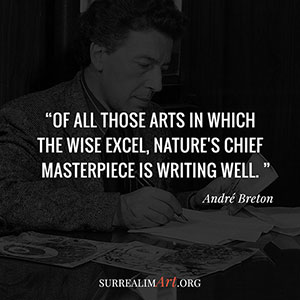 "Of all those arts in which the wise excel, Nature's chief masterpiece is writing well."
See more quote by André Breton