Movies by
Salvador Dali
Salvador Dali was nothing but a genious surrealist painter. He was also a writer. His work on the imaginary is shown in the cinematographic works on which he worked.
Un chien andalou (an andalusian dog) by Dali and Bunuel
This silent surrealist short film is the first of incursion Dali as co-writer. This film is the result of collaboration between Dali and his friend Bunuel. It lasts 16 minutes and was released in 1929.
The film is a succession of images, seemingly unrelated, in a Parisian apartment. In it, we witness violent disputes between a man and a woman. Unexpected objects and characters appear and disappear and the changes of places are sudden, like leaps in time. The atmosphere is deliberately dreamlike, surrealist.
L'Age d'or
The film, released in 1930, is a collaboration between Dali and Bunuel and is considered a surrealist cinematic masterpiece. The story recounts the passionate relationship of two lovers who are completely opposed. The course of the story is a succession of episodes tinged with fantasy and black humor. You can see an integration of collages. The tone is deliberately lyrical, pessimistic, unconventional and mostly anti-Christian.
One can also note the appearance of the surrealist artist Max Ernst in the film.
Destino
Destino is an idea born during a meeting between two people who devoted deep admiration to Walt Disney and Salvador Dali. This animated film was originally to be based on a song by Armando Dominguez whose images have been greatly inspired by the surrealist world of Dali. This short film was originally to be included in the film The Music Box. A script written by Salvador Dali and the first tests of the film were undertaken in 1946 before being abandoned. The 7-minute project was then restarted in Walt Disney studios to be presented in festivals in 2003.
Author

Arts3 Network
Websites Edition
Other articles
Salvador Dali
Biography of Dali
Salvador Dali Museum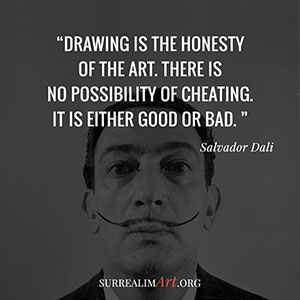 "Drawing is the honesty of the art. There is no possibility of cheating. It is either good or bad."
See more quote by Salvador Dali